At age 6, I began playing little league baseball. I could hit and catch the ball very well, but I could not run the bases. My legs physically would not move fast enough to run. My fastest run was equivalent to a jog by all the other kids. I got heckled at every game by teammates in the dugout and parents in the bleachers who saw me jogging to first base after hitting the ball, screaming, "Run, Jeremy! Run!". From their perspective, they thought I was being lazy, but I was not lazy whatsoever. I was trying my absolute hardest to run as fast as I could. I knew something was different with my body, but I did not know what it was. I continued to play baseball for several more years despite the heckling because I loved the game and would not let those hecklers stop me. 
At age 12, my parents and family started noticing me walk a little differently, trip over my feet occasionally, and fall to the ground easily with difficulty standing back up. When this started happening, my parents and I began the two-year journey of doctor appointments and testing to figure out what was happening with my body. At age 14, I was diagnosed with Limb-Girdle Muscular Dystrophy, a muscle-weakening disease I was born with that slowly progresses over time with no treatment or cure. 
When I got to high school at age 15, my muscle weakness had progressed, and it was becoming challenging to walk up the stairs to classes, so I had to take the elevator to each floor. My favorite courses were art-related, such as drawing, ceramics, and graphic arts. For the first time in my life, I was doing something I enjoyed and could excel at. I did not have to worry about my weak physical strength being an obstacle, which allowed my creative strength to shine. It felt absolutely fantastic! 
After graduating high school in 2000, I began college for computer science in 2001. I knew my muscles would inevitably continue weakening, so I chose a college path where after graduating, I could get a job sitting behind a desk where I felt comfortable that I could thrive working with computers without my lack of physical strength preventing me from doing my job. 
During my first year of college, my dad had a friend who owned a local sign company and was looking for a part-time assistant. My dad knew I was creative and enjoyed art classes in high school, so he asked his friend about the job duties and thought I could handle them physically and that the job would be right up my alley. My dad was correct! I began working at the sign company in the afternoons after college classes and found my passion in life on my first day on the job! It was similar to the art-related courses I enjoyed in high school, but I realized it was "commercial art"! Companies needed commercial signs and graphics in the real world for advertising and marketing purposes to be successful! I went home every night after work excited to tell my parents about what skills I had learned, the equipment I operated, and the names of the companies I helped make custom signs for! 
I worked at the sign company for approximately six months until the owner told me he had to let me go because his son had graduated from college and was returning to work for him full-time. I was sad when I received this news because I truly loved working there! Unfortunately, I did not have exciting news that night after work to share with my parents. 
After being bummed for a while after losing my job, I researched online to learn more about the signage industry. I discovered that a signage distribution company had an open house where many sign-making equipment and materials manufacturers would be on-site demonstrating and answering questions. I asked my dad if he wanted to go check it out with me, and he did, so we both took a drive on a Saturday morning to see what it was all about. I smiled from ear to ear the whole time we were there and realized it was something I was interested in getting into! So, I decided to take the money I made working at the sign company that let me go and invest it in myself! I went home with my first vinyl plotter machine, computer software to design and operate the vinyl plotter machine, and a few rolls of vinyl graphics! I set everything up in the basement at our house and just started teaching myself how to design, operate the plotter, and make vinyl graphics. We installed an electric chair lift for the basement stairs for me to easily ride up and down the stairs. After my weekday college classes, I would go home and do my homework, eat dinner, and then go down to the basement for a few hours to design and make projects for customers that started coming in from word of mouth. Then on the weekends, when my dad was off work at his everyday job in a different industry, he would help me install signs and graphics on vehicles and buildings because I had difficulty physically doing installations. With more and more work coming in towards the end of 2002, my dad and I officially started a part-time business named Signs To You. 
I was continuing to learn and get better at my craft. My customers were happy with my work and referred me to their friends and co-workers. Signs To You was starting to make money. I could buy more equipment to expand our offerings. I could make my own work schedule to avoid interfering with my college classes and homework. I began hiring part-time assistants and training them to help me so my dad did not have to anymore. The business was built from the ground up around me and my abilities, and it was going very well! The goal was to graduate college in 2004, get a computer-related job with my degree, continue my part-time business, and earn two incomes! It would have been the perfect scenario!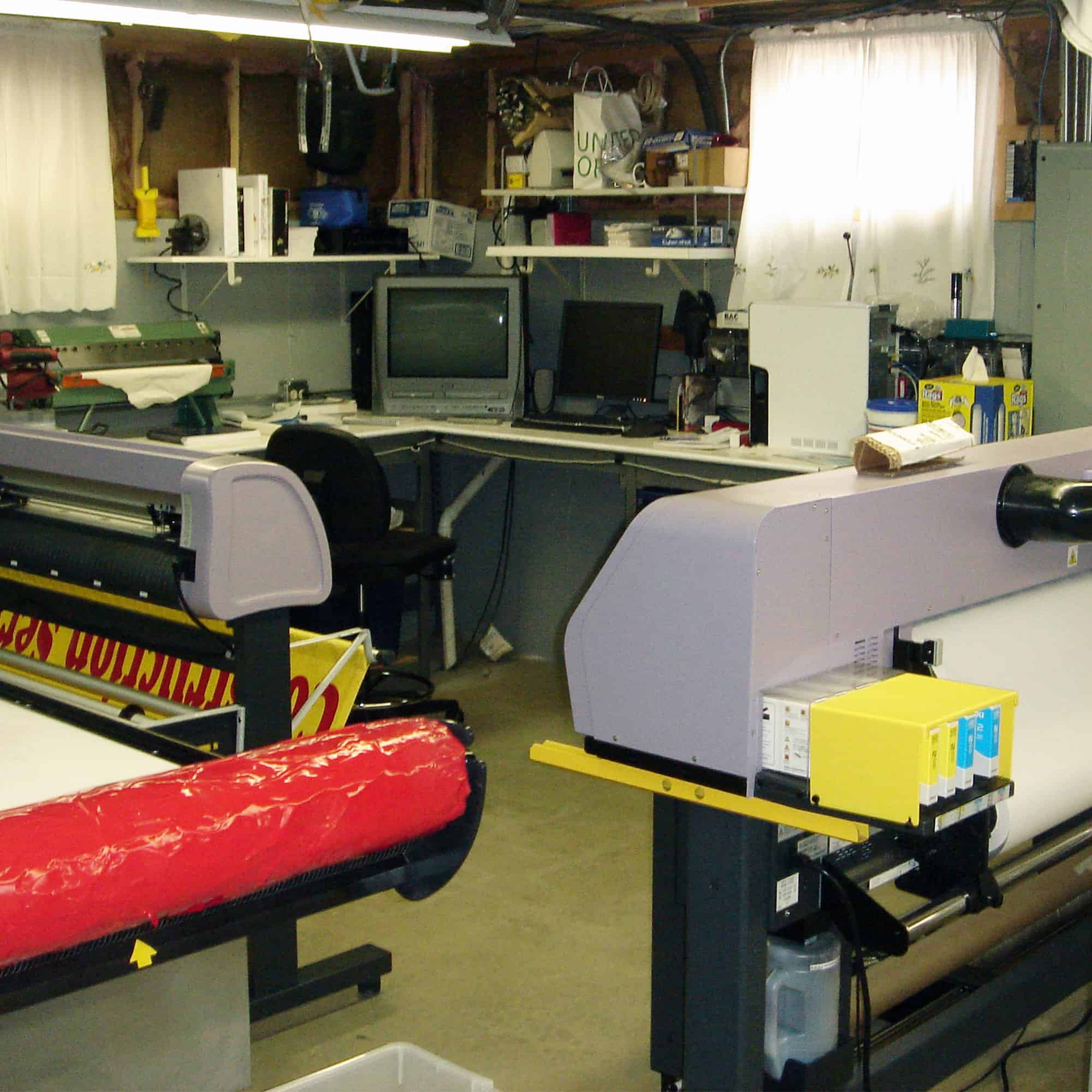 I graduated college earning a Bachelor's Degree in Computer Science. At this time, I could no longer walk long distances and had to use a mobility scooter to get around when I knew the distance from point A to point B was further than I could walk. My mobility scooter was too heavy to lift, so I installed an electric crane in the rear of my vehicle that would do the heavy lifting for me.
When I went on job interviews, I would roll in on my mobility scooter wearing a nice suit and tie. I was 100% prepared and confident to share why that company should hire me! Unfortunately, everyone who interviewed me was uninterested in learning why they should hire me. When they saw me roll in on my mobility scooter, they stuck their nose up in the air and judged a book by its cover. All they saw was my disability. For a solid year, I went on interview after interview, hoping that someone would recognize all my incredible abilities and give me a shot, but they did not. I was very disappointed. On the bright side though, during that entire year of interviews, my part-time signage & graphics business built around my talent and skills where nobody cared about my disability was going very well! So, at that point, I decided to make my own luck and focus on my signage & graphics business full-time!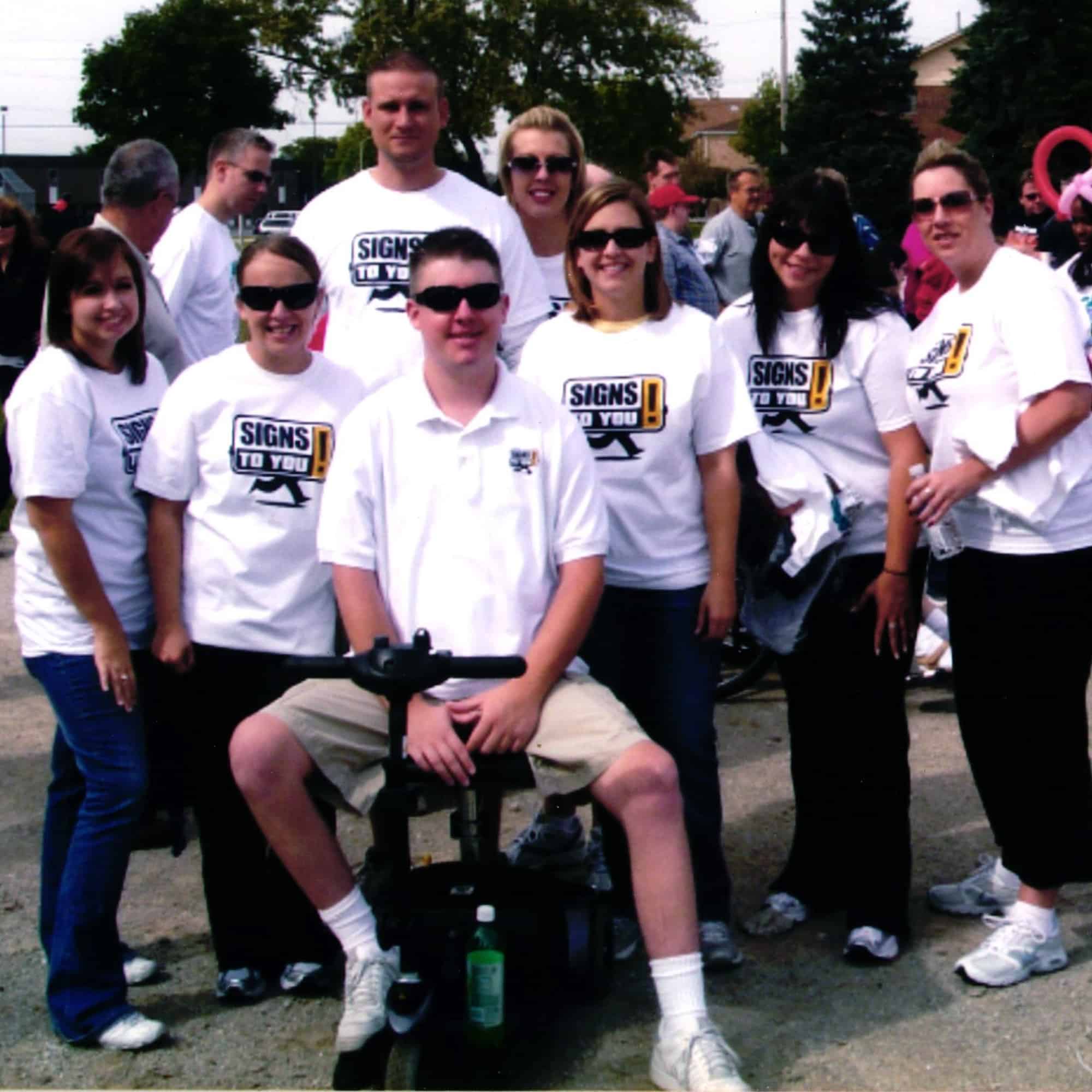 I get around permanently between a mobility scooter or power wheelchair and have been overcoming adversity my entire life. However, those obstacles make me mentally stronger than most and fuel my ambition for success! In 2013, my dad and I dissolved Signs To You because I had bigger aspirations. I started Sharp Mill Graphics, Inc. as the sole 100% owner. My dreams for Sharp Mill Graphics began with a logo sketch, and I am grateful that my dreams have come true!
Sharp Mill is a certified disability-owned business nationally and in the State of Illinois. I am proud that medium and large-scale companies nationwide choose to work with me and my company based on our valuable skillset and unique perspectives we offer. Over two decades and counting, that passion I found in 2001 at the sign company I worked at is still strong as ever! Also, I still get just as excited to share what projects my company is working on with my parents!